Nelson 30+ Manuka Honey 500g Twin Pack (Multiforal) is sourced from pure, clean and unpopulated natural environments in remote parts of the top of the South Island of New Zealand – free of pollution, chemicals and other contaminants. Manuka honey is collected by our honeybees from the Manuka flower. The honeybees collect and transform the nectar of the Manuka plant into honey.
30+ MG is a maintenance grade honey (for those with a healthy immune system) and should be taken every day to help keep your immune system topped up.

Tested and Certified as 100% pure New Zealand multi-floral Manuka Honey by an accredited NZ Laboratory to meet MPI Government-regulated Manuka Honey standards.

MG (Methylglyoxal) is derived from DHA which occurs naturally in the nectar of the Manuka bush (Leptospermum scoparium).

Methylglyoxal displays antimicrobial properties that can be related to the killing of bacteria.
Here at Nelson Honey, we believe in being transparent when it comes to certifying the quality of our products. We have designed an in-house system called Batch Track, whereby every batch of Manuka Honey that is packed in our factory undergoes independent testing at different laboratories.  You can access the test results online.
Our Batch Track System gives you peace of mind you have bought a quality jar of Manuka Honey.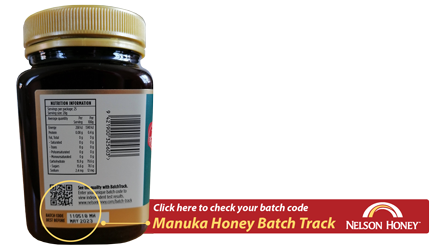 Read more about what this means on the 'science of honey' page.
Natural ingredients
We pride ourselves on using natural ingredients in all our products so you can take advantage of all the natural goodness. Our Manuka Honey range only contains pure New Zealand Honey sourced from pristine wilderness areas around the South Island.